THE ONLY TRUSTED DRY STORAGE & REPAIR YARD IN BAJA
Marine Group Boat Works brings top American-quality facilities, services and guarantees to one of the most popular cruising destinations in Mexico – Los Cabos. Just 30 mins from Cabo San Lucas, Marine Group de Los Cabos is located on-site at Puerto Los Cabos Marina in San Jose del Cabo. Marine Group de Los Cabos is the only trusted boat repair and dry storage facility in all of Baja as recognized by its customers, colleagues and professionals in the industry. We are distinguished by our reputation for high quality, seamless operations and impeccable service, and we strive to provide a level of workmanship that is second to none. Because we pay attention to detail, even on a large scale, a vast majority of our customers are loyal return customers.
Marine Group de Los Cabos has serviced notable sportfishers, motoryachts and sailboats including TALISMAN, GERI LYNN, EL LOBO, PANACHE, NYALA, MAITE MARCH, TOURBILLON, AEQUUS, TAMSEN, and the sailing fleet for Cabo Adventures.
Areas of Service
With a 150-ton Marine Travelift capable of handling boats up to 125 feet with a 27-foot beam capacity, we specialize in dry boat storage, haul-outs, maintenance and repairs, paintwork, mechanical and welding with on-site workshops and a Marine Store stocked with top brands and hard-to-source marine products.
Here's a snapshot of what we do:
Hurricane-Resistant Dry Storage
Dry Storage capable of accommodating 100 boats up to 33 ft (10m). Basic to premium service packages available. Scroll down for more information and rates.
Haul-Outs for Maintenance and Repairs
150-ton Marine Travelift capable of handling boats up to 125 feet with a 27-foot beam capacity.
Marine Store
Shop at our on-site Marine Store for hard-to-source boat parts and supplies. Proud distributor of U.S. brands, Interlux, Prop Speed, VEEM, Seakeeper and more.
Paint & Fiberglass
Yacht quality paintwork, bright work, topsides, superstructure, non-skid, anti-fouling bottom paint and prop speed.
Mechanical
Engine repowers, alignments, shaft and propeller services.
Welding
ABS-certified welders servicing high- and low-pressure systems, ISO 14001 Compliant.
Dry Boat Storage
Our highly anticipated dry stack storage system is the first and only in Baja California. It can accommodate 100 boats stacked three levels high, allowing owners of boats up to 33 feet in length to lower maintenance and insurance costs by storing them in enclosed shelving systems. Within 15 minutes, a giant forklift can pull a boat, launch it, and have it waiting for its owner, eliminating common inconveniences boat owners face.
Marine Group Boat Works de Los Cabos offers a one-of-a-kind concierge service that consists of three packages ranging from a basic haul, storage and launch package to a premium package that includes complete maintenance, provisioning, fueling and more.
Recent Cabo Projects
See some of our recent projects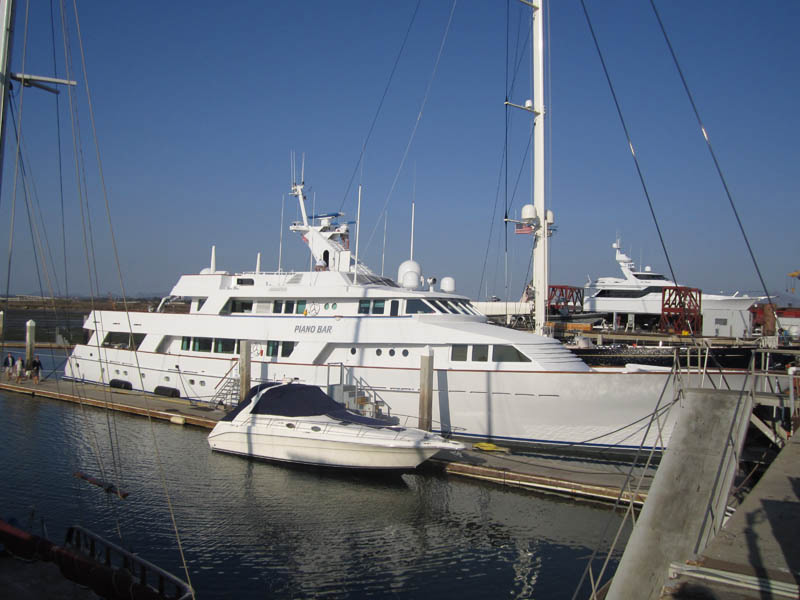 ---
Parts and Accessories
The Marine Group Boat Works is a proud dealer of the following fine products…
Equipments and Workshops
On-Site Workshops
Propellor, Machine and Welding
Mechanical
Electrical
Carpentry
Paint and Fiberglass
Capabilities
Haul-outs up to 125 ft (38.1 m)
150-ton Travelift: 125 ft (38.1 m), beam 28 ft (8.5 m)
Wiggins Marina Bull negative 25,000 pound lifting capability
6,000 pound forklift
30-ton Crane:

Maximum vessel length: 125 ft (38.1 m)
Maximum vessel beam: 28 ft (8.5 m)
Maximum draft: 13 ft (4 m) at MLLW
Maximum height: Unlimited

Dockage space: 4 berths at 150 ft (45.7 m)
Electrical Capabilities:

220V/240V single phase and 3 phase power available, 60 Hz power also available at 100 amps per berth